days
hours
minutes
seconds
days
hours
minutes
seconds
course registration closing this Sunday midnight at
Go from a commoditized developer to building a successful brand and business
the best business course for developers

Years ago, when you first thought of becoming a developer, did you dream of going through endless tutorials and courses, buried in frustration and anxiety, suffering tremendous imposter syndrome, going through many sleepless nights, building countless projects and STILL not be able to land a job or freelance successfully?
Are you an aspiring developer going through tutorial after tutorial, course after course, book after book trying to fulfill the requirements of a developer job post?
Or if you are a developer on the job, are you sick and tired of the same old BS and toxic corporate environment that is so drastically different from what gets marketed and publicized on Youtube?
(A Day in the Life of a Developer videos)
Unless you go to the top-of-the-pyramid companies like the big four (Facebook, Amazon, Netflix, Google), life is not so hot.
If you get a job at such a company, here's what you get.
a $120,000 starting salary…
unlimited coffee…
ping pong table in the office…
15 days PAID time-off your very first year…
22-week PAID leave for mothers…
You can work from home or anywhere...
High quality food rivaling five star restaurants...
Your very own $3,000 beast of a workstation-grade computer with 3 monitors…
You work on "life-changing" software that impact trillions of lives...
This sounds like a dream, right?
But this represents a very very tiny percentage of all the developers on the job currently in the industry.
Less than 1% of the 1% of the 1% kinda thing.
And this is usually what you see marketed everywhere.
All you see online are super passionate developers who are willing to cut out their left arm to please their supervisors and stay 12 hours everyday on the job to "learn" and "grow".
This is NOT reality.
99.99% of the developers out there don't have this luxury. Not even close.
Here's what a normal software developer gets…
An average $55k to $65k starting salary…
You bring your own coffee…
No Ping-pong table. No pool table. No Jenga readily available for play.
You buy your own food.
You bring your own computer or you get a battered $800 computer with one 19" monitor.
Just. Like. Any. Other. Job.
Now, I still think a software developer is still one of the best career options out there today for many reasons, but it's not all rainbows and sunshine.
The reality is that most developers are neither super passionate about their jobs nor are they working on "life-changing" software impacting millions of lives.
They just work for some company to help build projects and websites for existing businesses and are trying to climb the corporate ladder.
And a lot of new developers entering the market are being taken advantage of by recruiters and companies and are being severely underpaid as "junior developers".
None of this gets told.
Because of the hype built around why everybody should learn to code by people like Steve Jobs and Mark Zuckerberg over the last few years, the software development industry has been booming at an unprecedented rate.
And because of this, only in this industry do we have people blindly working incredibly hard like ruthless animals trying to teach themselves to code by all means and land a job.
All because "coding is the future."
Sorry to break it to you, Pal, but you're getting screwed.
I'm telling you this because I've seen this happen to people time and time again. If you don't believe me, go on Reddit, Quora, and other forums and read about it yourself.
And I've personally been through and DONE all those things above myself.
I got my very first developer job at a local Web Development agency comprised of a team of 8-10 members.
I didn't need to take that job as I already had a successful freelancing business at that point but I wanted to try that corporate life and work with a "passionate" team of developers.
I had worked so f**king hard to teach myself and get to that level of expertise in software development.
Learning a suite of different languages, tools, frameworks, libraries while making countless mistakes…
Still kept going even after failing and quitting a dozen times…
Dealing with tremendous imposter syndrome, frustration and depression...
Sleeping in the car in the winter at sub-zero temperatures for months while learning to code for 15+ hours a day…
And what do I get offered? A $50,000 starting salary.
And I had passed the interview test with flying colors.
I also worked like a mad man on that take home test project to make sure I got hired.
And… a $50k salary?
Even with that, I gave them the benefit of the doubt and wanted to keep going and at least see how it is to work at a dev job.
So, after some beautiful negotiation, I made it to $70,000 and began working the following week.
On my first day, I got a rusty old computer with a dusty keyboard with a 17" monitor.
During the interviews, they (co-founders) made it seem like they were working with some modern tech stack and talked about how passionate them and their entire team were about their work.
Now, I was at work and nobody was passionate. Not even close. Everybody was pin-drop silent working on their own stuff on their computers.
And the co-founders of the company had their own office with the doors closed.
Great teamwork and amazing culture, right?
And the tech stack they were using was archaic and mediocre at best.
I lasted a grand total of five days. I quit.
It was closer to four and a half.
The CEO tried to get me back multiple times through calls and chats offering me even more but I didn't go back.
And that was one of the best decisions I have made in my entire life.
Because if I had settled for that, I wouldn't be here today having my own brand and a successful business doing multiple six figures a year living life on my own terms.
And I created this course to help you do the same.
Imagine a Monday morning. You wake up at 11:30am. Actually, you wake up whenever the hell you want — no alarm clock.
First, Instagram and Facebook. You wonder for a few seconds "What day is it today?". You reckon it doesn't matter. A few pics of dogs, status updates, and then you notice one complaining post from your Facebook "friend" who's already been at the office for two hours after his daily 55-minute commute.
You get up. Go to your favorite coffee shop. Order your usual, take a seat and open your laptop.
You check your email.
What do you see?
You received 5 orders for your product while you were sleeping.
You also got one of your high-ticket consulting clients that's on a retainer sent a monthly payment of $3,000 for managing his business' online presence.
You send a quick thank you email to your talented team for the great work.
While you're sipping your coffee, you watch your favorite Youtuber. Your phone goes off. You crack a smile — it's not your boss calling you for a meeting — it's another order.
All on auto-pilot while you do what you want to do.
And the day is just getting started.
Around 1pm, you start working on one of the funnels you've been preparing for a new product launch. It's done by 2pm.
Then you call up your best friend and hit the gym and get a good workout in the middle of the day, a week day — all because you can.
It's 4:30pm. You're at your favorite lunch spot with your friend having a blast talking about how good the food is even though you've mentioned it a thousand times already.
When you get home around 7, you pour yourself some moscow mule on the rocks. While you're sipping your drink, your phone buzzes. It's your amazing assistant, and she's sent you the update on the daily revenue, summary of the things done for the day, and the calendar schedule for tomorrow with few major key things pointed out.
All happening on auto-pilot.
This isn't just a fantasy. This isn't just something the "experts" do. You can build your very own successful business as a modern developer even if you have zero clue on how to get started.
I personally never wanted to work for anybody else. I have always been a rebel at heart doing whatever the hell I wanted.
Both my parents never had a job in their entire life. They both had their own small businesses since the age of five.
So, I had entrepreneurial DNA since I was a little chubby kid. I have always been a big dreamer.
And I continue to dream today, and I will continue to dream tomorrow.
I give credit to my dad for a lot of things I have been able to accomplish today.
As far back as I could remember, he'd leave around 8am to do his work and come back home every night around 10pm drunk. After having dinner my mom prepared, he'd call me to the living room and lecture me for hours while continuing to drink more.
I hated him for that at the time. I thought "My dad is such a loser. Drinking all the time."
Later, when I grew up, I would realize that he got drunk because of all the stress working 12+ hours every day trying to make a living and raise a family in the terrible economy.
Back to the lecture session.
He'd sit me down and ask me how my day was and proceed to tell me another variation of the same story he's already told a million times.
But here are some of the things he would say to me repeatedly that still rings in my head all the time.
"Son, you can do anything you want!"
"Son, getting an A and passing the class is pretty cool, but understanding is what truly matters"
"Son, you can do anything… you listening?"
I'm dozing off at this point. I'd jolt myself right back and respond with hyper alertness. At this point, he'd just tell me to go to sleep.
This belief I have in myself that my dad cultivated in me has taken me this far in life today.
When I started, I didn't know what the hell I was doing at all. I was this super shy asian kid who'd never "gone out" a day in his life. When I first came to America 9 years ago, I had to deal with the massive culture shock, a new language, and a completely different reality.
I didn't know how to do it. But I knew that I wanted to make it… and make it big. More than anything, I knew I could do it. You could say I had a delusional belief in myself.
And that belief has turned into a reality today. I went from a shy, immigrant kid with a dozen insecurities having no experience in online business whatsoever to running a successful multiple six-figure business that's impacted thousands of developers around the globe.
A business that allows me to do meaningful work that I enjoyed.
A business where I am able to generate a level of income where I don't have to question and feel guilty with every little purchase like coffee, breakfast, spotify subscription, a night out, shoes etc
A business where I have the FREEDOM to live the lifestyle of my dreams and continues to generate revenue
...while traveling multiple times a year
...while going out and staying till 4 am on Sunday nights
…while going to the gym in the middle of the day and learn martial arts from a black belt instructor
And for the very first time, I'm going to teach you how to build your very own successful online business as a developer.
What if you could build a successful business as a developer that pays you to live the life you've always wanted?
What if you could start generating a livable income within months as a freelance developer even if you were a beginner?
How about building your own personal brand online and have a truly scalable business that you could sustain for another 3 years… 5 years… 10 years down the line?
INTRODUCING
The proven, step-by-step system that takes you from just an average "developer" stuck on the corporate ladder or an "aspiring developer" to building a profitable business impacting thousands of lives.
Then the battle-tested roadmap that prevents you from wasting your most precious asset ie time and shortens your timeline of success from years to months.
Finally, the ONLY course that teaches you everything you need to know to start your own powerful personal brand and leverage it for long term profitability as a modern developer
Even if… you are just a beginner
Even if… you're not "business-minded"
Even if… you don't know anything about any of this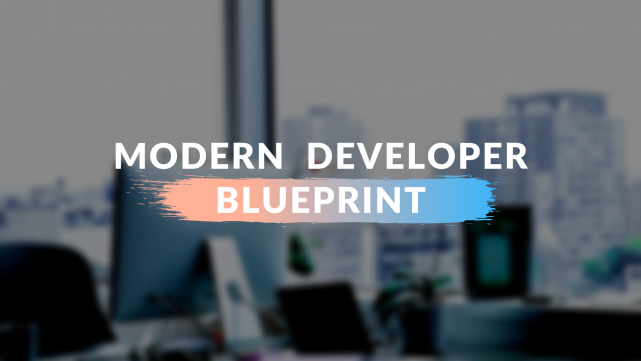 INSIDE THE MODERN DEVELOPER BLUEPRINT
Module 1: Your Roadmap and Mindset
The most important element to your success

My number 1 strategy to leverage from the success of others to cut your journey from years to months

How to de-commoditize yourself and why it is so important to build a personal brand in today's world

The one thing that differentiates the world-class CEOs, politicians and successful business owners from amateur freelancers
Module 2: Your Online Presence
The biggest asset you have for your online presence

The art and science behind taking captivating profile pictures

The anatomy of a highly converting website, with our detailed checklist for you to include all the essential components

How to set up your domain, custom email, hosting, build an effective and beautiful portfolio page for free.
How to set up your Wyzant, Take Lessons and LinkedIn profiles to maximize leads and conversion
The importance of your first 3 clients and what this means for your business

The 3 benefits of teaching that most people overlook

The correct way to do outreach to land more clients

How to apply to gigs to various online platforms with detailed guides and scripts on how to navigate this process efficiently

Reaching out to local businesses, organizations, and schools for big ticket clients

How to do lead consultation calls and convert them to paying clients in the shortest amount of time possible
In-depth analysis of a great outreach email that's proven to work
The what, why, and how of pricing
How to do the perfect tutoring session and make your clients want to come back for more
Module 4: Small Business Freelancing
The Perfect Consultation Meeting to set the stage right for leverage and negotiation later
How to effectively identify client's problems, their wants and objectives
How to cold call local clients for gigs
How to price your services for small businesses and make packages that appeal to business owners
How to be confident with your rate
High Ticket consulting by combining minimal marketing and your development services
Module 5: The Turning Point
The biggest problem with freelancing even when you are successful at it

In-depth look into the power of personal branding for scalability and long-term success for your business




Your new game plan and roadmap to building your own solid personal brand
Module 6: Building Your Audience
How to build the perfect avatar of your target audience

Content creation 101 | creating valuable content that commands attention from loyal subscribers

The different forms content you can create on different mediums

The ultimate guide to building the most important money-making asset in your business — your email list

The anatomy of a website that converts visitors into subscribers into customers
Module 7: Building Your Product
The what, why and how of creating a digital product

How to do market research and finding a specific problem to solve, with our skill set

How to validate your product to make sure people will pay you before you even start creating your product
The number 1 mistake most beginner digital product creators make that cost them months and years of progress

Making a curriculum that works and helps your customers thrive

How to write meaningful and effective scripts

How to shoot videos and edit videos without losing your hair

How to make beautiful graphics, logos, and designs without any design skills
Module 8: Marketing | Scaling
How to price your digital product
An in-depth guide to sales funnels and their impact in the modern online marketing world
How to write emails that build trust and connection with your subscribers
The 3 key things in your business to 2x, 3x, 5x your revenue
How to write an incredible launch sequence for your product
How to write copy that tells your own story and converts leads to buyers without needing to be an expert at writing
Lifetime access to the Modern Developer Blueprint Freelancer Package — everything you need to start and scale up a successful freelancing business even as a beginner
4 Weeks of in-depth Modules with battle-tested strategies and actionable, practical steps
7+ Guides for Cold Calling, Outreach, Online Platforms, Your portfolio setup, Conversion
EXCLUSIVE Facebook Community with high-level entrepreneurs just like you ready to help
Exact cut-and-paste scripts for tutoring, freelancing and each part of the sales process
Industry-standard Templates and Documents
Lifetime access to all future updates
Lifetime access to the Modern Developer Blueprint Freelancer Package — everything you need to start and scale up a successful freelancing business even as a beginner
4 Weeks of in-depth Modules with battle-tested strategies and actionable, practical steps
7+ Guides for Cold Calling, Outreach, Online Platforms, Your portfolio setup, Conversion
EXCLUSIVE Facebook Community with high-level entrepreneurs just like you ready to help
Exact cut-and-paste scripts for tutoring, freelancing and each part of the sales process
Industry-standard Templates and Documents
Lifetime access to all future updates
Lifetime access to the Modern Developer Blueprint Influencer Package — everything you need to create your own personal brand and a successful business by selling digital products and high-ticket productized consulting**
4+ More Weeks of in-depth modules for generating subscribers, turning them to leads, converting them to customers, and delivering high quality products
10+ Guides for Sales Funnels and Email Marketing
How to build a loyal audience through Youtube 100% organically
How to automate your business and have evergreen funnels generating revenue for you while you sleep.
Scaling your business to over six-figures and multiple hundreds beyond through running Facebook Ads and Influencer Marketing